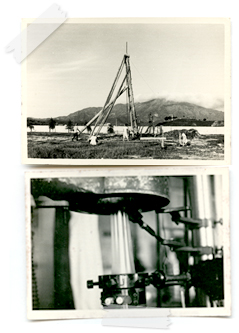 May. 1965 National Plastic Co., Ltd. established in Pusan
(headquarter: Yuansna dong, Dongre goo, Pusan si)
Aug. 1965 Merged Young Jin Chemical Co., Ltd.
Feb. 1969 Opened to Public
Sep. 1969 Listed on the Korea Stock Exchange Market

Jun. 1971 Merged Royal Plastic Co., Ltd.
Apr. 1977 Moved its headquater to Seoul
(Dearim dong, Youngdeungpo goo, Seoul).

Mar. 1981 Established joint venture in Singapore
(Sanseng National Plastic(Pte) Ltd.)
May. 1987 Opened Banwol factory(Ansan si, Guynggi do)

Feb. 1990 Installed Korea's first 4,500-ton injection molder
Aug. 1990 Opended Jeongup factory (Jeongup si, Junrabook do)
Apr. 1991 Pallet line acquires KS(Korea Standard) mark of quality
Apr. 1993 Established joint venture in China(Tumen National Plastic Co.)
May. 1995 Moved its headquarter to Ansan si, Guynggi do
Dec. 1997 Acquired ISO 9001certificate
Apr. 1999 Acquired Environment Mark certificate

Oct. 2003 Opened YoungNam factory in Milyang si, Guyngsangnam do
Dec. 2004 Completed Goonpo building
(Dangjung dong, Goonpo si, Guynggi do)
Apr. 2005 Acquired Standardized Logistics Facility certificate
Nov. 2005 Opened Chungwon factory
(location: Chungwon goon, Choongchungbook do)

Mar. 2010Changed the company name from National Plastic Co., Ltd to NPC Co., Ltd.